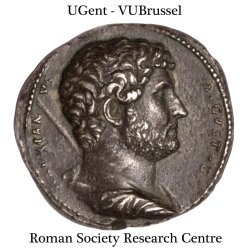 The RSRC is an joint research center of Ghent University and the Free University of Brussels.
Our aim is to promote studies in the history of the Roman World in all its various aspects. We embrace contributions in the field of economic, social, political, cultural and mentality history from the dawn of Roman history (8th c. BCE) to the end of Late Antiquity (6 c. CE), including the (hellenised) East. We welcome also contributions from sister disciplines (archaeology, filology, ancient philology and law) and auxiliary disciplines (epigraphy, papyrology and numismatics).
We seek actively to promote and support research initiatives and projects in all these fields, by the organisation of international colloquia and workshops, by accommodating visiting scholars, and by stimuating joint publications and projects.
Besides accommodating the various research projects of our members, we have also our own research programs on which we organise international colloquia and publication projects.
If you are interested in joining us, please contact:
or